Artwork Guidelines
We have a few recommendations to guide you through the process of sending us artwork for reproduction.
Following these guidelines will ensure trouble free reproduction of your artwork.
We would strongly advise that you supply artwork created in the following programs:
Adobe Illustrator (.ai ) | Adobe Photoshop (.psd) | Corel Draw (.cdr) | Sign Wizard (.lyt)




All Illustrator files (Both .eps & .ai,) should be 'back-saved' to Cs3 whenever possible.)
We can accept files created in other applications, but in this case we could not guarantee the end results.
EPS – Many applications offer the facility to export as an eps. Clients must ensure that all Fonts are converted to 'curves' or 'outlines.' If using Illustrator please ensure eps files are 'back' saved to Illustrator Cs3 where possible.
PDF – As above, widely used Adobe file type.
Ensuring that all Fonts are created to Outlines/Curves is essential before saving/exporting as a PDF.
BMP, JPG, TIFF, GIF – All photo editing software allow you to save in any of these formats. A JPG file is probably the easiest to work with due to its much improved file size over the other file types.
At Signs 'R' us, we operate 3 CMYK printers, so it is advisable to send all photographic files in CMYK rather than RGB (Saved in the highest resolution), to ensure accurate reproduction of artwork.
FONTS
Whenever possible, files should be sent with Fonts created to Curves or outlines. This eliminates the need for you to supply fonts used in the design. If we don't have the Font included in the file, it can be very difficult to determine which texts should look like what. If you cannot send the Font, please let us check whether we already have it on our system. In an ideal World, all fonts would be supplied with your artwork.


COLOURS

Because not all Pantone colours can be matched when printing in CMYK, there can occasionally be concerns on how some Pantone's are reproduced.

Pantone's can only ever be 'simulated' when using CMYK printers. If you have used Pantone colours in your artwork, and you would like us to check the accuracy of the colour before printing, please make this clear when placing your order and in most cases we can send you a sample.
Ideally, all artwork would be sent in CMYK a format, containing any relevant Pantone information - especially if you have very specific colours included. Please make us aware of such colours when sending through your order. We use a huge selection of different Media's that can change the appearance of colours, it is imperative that we have all the information required prior to reproduction. If Pantone colour references are not available, you should provide hard copies of the artwork, so that we can match the colours with our colour matching systems.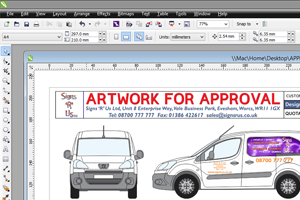 ARTWORK FOR APPROVAL
Before any job is completed, we will send you a proof of your job, which must be signed and returned to us before completion. For larger jobs we can provide actual samples, either scaled down, or a small section of the artwork at full size. In order that colours and resolutions can be checked. We cannot proceed with artwork until we have received this signed proof.
GENERAL INFORMATION
SCANNING: Should you need to scan photographs for reproduction. Please ensure that you scan at a suitable resolution. The higher the resolution when scanning, the bigger that the image can be blown up to. A minimum of 300dpi should be used for scanned images. Although, obviously the higher the dpi, the better quality the image will be.
For larger scanned images it would be advisable that you send such artwork through the post on a CDR, rather than via e-mail.
INTERNET: Although we can on occasions use internet pictures to produce artwork. These must be of a high quality. We cannot produce quality artwork from small (usually 75dpi) internet images. These images are saved in this small resolution specifically for internet use. (this allows pages of websites to load quickly) They are not suitable for creating quality artwork from.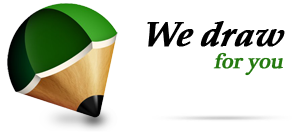 We can in most cases re-create artwork should it be un-available in a high quality or vectorised format. There is however a charge for this service. Please contact us for more information.